American icons through and through, jeans seem to be more of a platform of individuality than a cotton-based twill pant. But what makes jeans jeans? More importantly, what makes a pair of jeans worthy of investment?
While it seems like every designer and fashion house has 4-6 different takes on the classic American trousers, they are based around the same basic construct: Two legs, five pockets, and made of denim. So are all jeans made equal? In short, no. While some designers play with cut, tapering of the leg, adding stretch, playing with stone-wash, dark wash, light wash, which wash, switch wash, bleaching, painting, ripping, tearing, shrinking, fraying, the true jean-lover sticks with where it started, raw selvedge indigo denim. But what does that really mean? And what can you look for to make sure you are getting a legitimate pair of jeans that are worth their weight in deep blue twill?
Jeans: A Short History
Blue-Jeans came about during the western expansion of the U.S. when Levi Strauss (yes an actual man) and Jacob Davis collaborated on an idea to add rivets to dungarees, making the pockets stronger for field workers and miners alike. This strengthening made jeans more durable than anything else available, launching them into the mainstream for decades. To this day Levi's has kept it's iconic status, even though it has fallen behind in quality after WWII. Today, the world's best denim is made in Japan. Why Japan? Directly following WWII the Japanese fell in love with American culture and the clothes the G.I.s wore while stationed there, namely, their blue denim jeans. This led to the Japanese buying the majority of the original US denim-making shuttle looms between 1946 and 1970, while the major American brands began to switch to a more modern, larger-format manufacturing process, and outsourced their manufacturing to China and India.
The Japanese are OBSESSED with denim, they are continuously perfecting their weaving and assembly practice to better mimic the way jeans used to be made and adapt them to modern trends. Specifically, the Okayama Five: the five heavy-hitter denim houses in Japan consisting of Full Count, Evisu, Studio D'Artisan, Denime, Warehouse & Co. are leading the way in denim manufacturing. The five have been working for over three decades to perfect their ideal version of what denim should, and could be. They are the modern kings of raw, selvedge denim.
Raw? Like Sushi?
So what is the big deal with Raw? When jeans come "raw" it means there has been no washing, preshrinking, bleaching, or artificial aging of any kind. Denim-heads love this because the pants, much like a fine Italian shoe, truly become yours after vigorous wear. They fade where you naturally cause them to fade, they loosen in the tight spots, and shrink in the loose ones. No two jeans are exactly alike and when you buy raw you give yourself the opportunity to make that pair truly yours.
Selvedge Denim
Did he just spell salvaged wrong? Nope. When it comes to jeans, selvedge is the big keyword. But what is it? And why does it matter so much? Selvedge is essentially short for "self-edge" which means the loom used in making the cotton twill created a closed edge at end of the fabric to reduce the chance of fraying and loosening. It's also the telltale sign that the denim was woven on an older-style shuttle loom, the way it was originally made. This kind of denim typically has a nicer texture and a more durable weave, hence why it is so sought-after. The best way to tell if a pair of jeans is "selvedge is the inside seam on the leg: if it has a clean white edge without a closing stitch along the end of the fabric, its selvedge. Like this:
A Note on Care
If you are getting your first pair of raw (or Rigid, thank you Levi's for making it more complicated) denim jeans, there are some care notes we need to cover as these aren't like your childhood jeans from Pipes or your skinny jeans from Banana. With Raw denim, the goal is to make them personal to you. In order to do that, it is highly encouraged that you wear them for 6-8 months without washing them. I know, I know, "but what happens when they start to smell!?" you ask. Answer: toss them in a plastic bag and throw them in the freezer overnight. The odor causing bacteria will die, and your jeans will be back to their "you" smell. When it comes time to wash them for the first time, treat it like a child's first bath, take it slow, and sit with them in a tub with warm water and a mild soap (detergent) and give your legs a rub-down. Afterwords, take them off, wring them out and hang them up while you run yourself through a shower. DO NOT PUT THEM IN THE DRYER. To avoid shrinkage in all the wrong areas, raw denim must be hang dried. The use of warm water while you wear them in the tub allows the jeans to shrink in the right places and the air drying will keep them that way.
A Note on Wear
DO NOT SIT ON LIGHTLY-COLORED FURNITURE or wear them with light-colored fabric-based shoes within the first 6-8 months. The newer they are, the more likely you are to accidentally transfer the indigo dye to other fabrics.
Our Picks
Now knowing the basics behind what most people get all riled up about with their denim. What jeans should you purchase? We have gathered our picks that are solid investments for those looking to form a unique relationship with their pants.
Japanese (You will likely need to translate these webpages)
These Japanese gems are a modern take using new fabric made the old way to form a hybrid that has the color and texture of a classic with the cut and fit in line with the latest trends.
A more liberal version of raw denim, these have large logos embroidered on the back pockets, perfect for showing off to other denim heads, perfect for the more flashy wearer.*
These are by far the heaviest jeans of our picks. At 15 oz (normal is 12 oz) these are no summer pants, but jeans built to last for years.
These are the only one-wash jeans in our picks. This means they won't shrink as much as the other pairs we listed, and less indigo will come out over the first year or so. So if you are looking for less work in your pair of jeans, these are for you.
If you are looking for an extremely simple pair of classicly constructed jeans, then these are your pick. No pocket design, no flourishes. Just. Jeans.
Made in their last standing American denim factory, these Levi's are as close as you can get to the OG: made in America in a slimmer cut.*
While the site seams shady, these jeans are made in the same factory as Levi's vintage series and they have some interesting additions that Levi's don't have.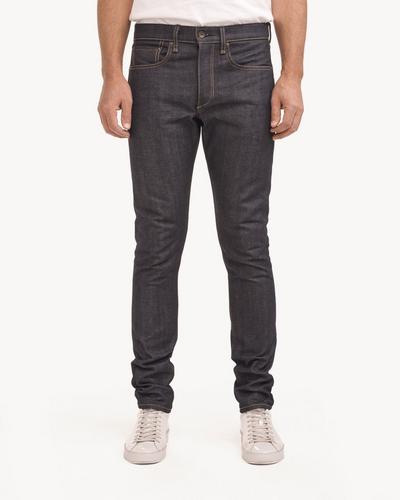 Rag and Bone has done a great job of creating a modern jean with the classic materials. These are one of the thinnest American jeans you can get in Raw indigo from a large fashion house right now.*
Do you have another brand that you've found and really like? Let us know in the comments below!