Congratulations! You worked hard, passed all of the interviews and finally landed in that awesome consulting job that you were looking for! Air miles and hotel points here you come (get the Bonvoy card now so you can start crushing the points game). This is all well and good, but what do consultants wear!? Consulting is an interesting dress code game. Some firms are still very higher-end business casual, but some are going more of the jeans route to cater to the younger workforce. So we decided to come up with a starter kit that is sure to make you fit in in the office, and at client site (at least for most clients). All our picks are meant to give you the basics you'll need to meet or exceed the dress code for most offices. Based on your initial budget, we have split our selections into the Signing Bonus and Standard Starters categories, meaning some picks will be on the higher end, and some will be more affordable.
Note:As always, all purchases made through the use of the buttons marked with * indicate we here at What is a Gentleman receive a commission to keep this site running.
Suits
You will need at least one suit to get you through the important client meetings and meetings with the partners, however, 2-3 is preferable for your first two years to avoid over use. Also, remember many of the managing principles or partners are old-school so dress like you care.
Signing Bonus
Suit Supply Jort Grey Bird's Eye Suit
A wool-silk blend 3-piece that is all baller and comes with a vest that can be worn with or without the jacket. This is the impact suit.
J. Hilburn Navy-Grey Revenge Check Suit
Get a MTM suit that makes you feel like a king. If you want to look how much you're worth, this is the pick.
Suit Supply Dark Grey Hounds-tooth
Suit Supply give us an office standard with a bit of character in a subtle pattern. Perfect for office day-to-day
Hartford Fineline Navy Suit
Indochino is full-on MTM that provides a killer fit at an easy price point.
Blazer
This can be a flex piece but should be versatile enough for you to wear twice a week when traveling to make sure you aren't packing 30 pieces for 4 days. A quick travel tip, grab a neutral color jacket and wear it on Monday and Wednesday, but change the pocket square and shirt combo so people don't notice.
Signing Bonus
Flynn Plaid Wool Sport Coat
Peter Millar provides a high-class navy blazer with a pattern to elevate your aesthetic.
Suit Supply makes a mean blazer. The light grey is a perfect addition to your closet that goes with everything and can be worn with more casual get-up too.
Bonobos gives us a blazer that works well in the office but also for more casual occasions. Looks great with jeans and chinos.
Trim Fit Linen Sport Coat
Nordstrom Men's Shop has an affordable lightweight jacket option for the warm 6 months that will be necessary from May until October.
Shirts
You'll want to snag at least 3-5 non-iron shirts that have a little bit of stretch so that you can rotate them without wearing them out. The non-iron feature will be key for travel. You will likely need to iron them anyway, but you won't have to deal with any deep creases when ironing in the morning before you head off to client site.
Signing Bonus
Mizzen + Main's textured light blue shirt is a closet standard to stand out
Non-Iron Twill Slim-fit Shirt
T.M.Lewin is a manager's go-to and a quality non-iron option
Trim Fit Non-Iron Dress Shirt
Nordstrom's take on a slimmer standard dress shirt.
Slim Fit Non-Iron Poplin Shirt
Charles Tyrwhitt. You just have to scare this shirt with an iron to get the wrinkles out
Pants
Grab 3 pairs of pants, a cotton-based pair for the more casual office setting and two pair of wool blends for the nicer work settings. The wool will look nicer, wrinkle less, and look amazing with a good blazer or just a button-down.
Signing Bonus
Flat Front Houndstooth Wool Pants
Nordstrom has some elevated wool chinos that are perfect for the office
Yarn-Dyed Weekday Warriors
Bonobos' more textured cotton work pants that go with everything
The Tie Bar has some of the most affordable all-wool pants available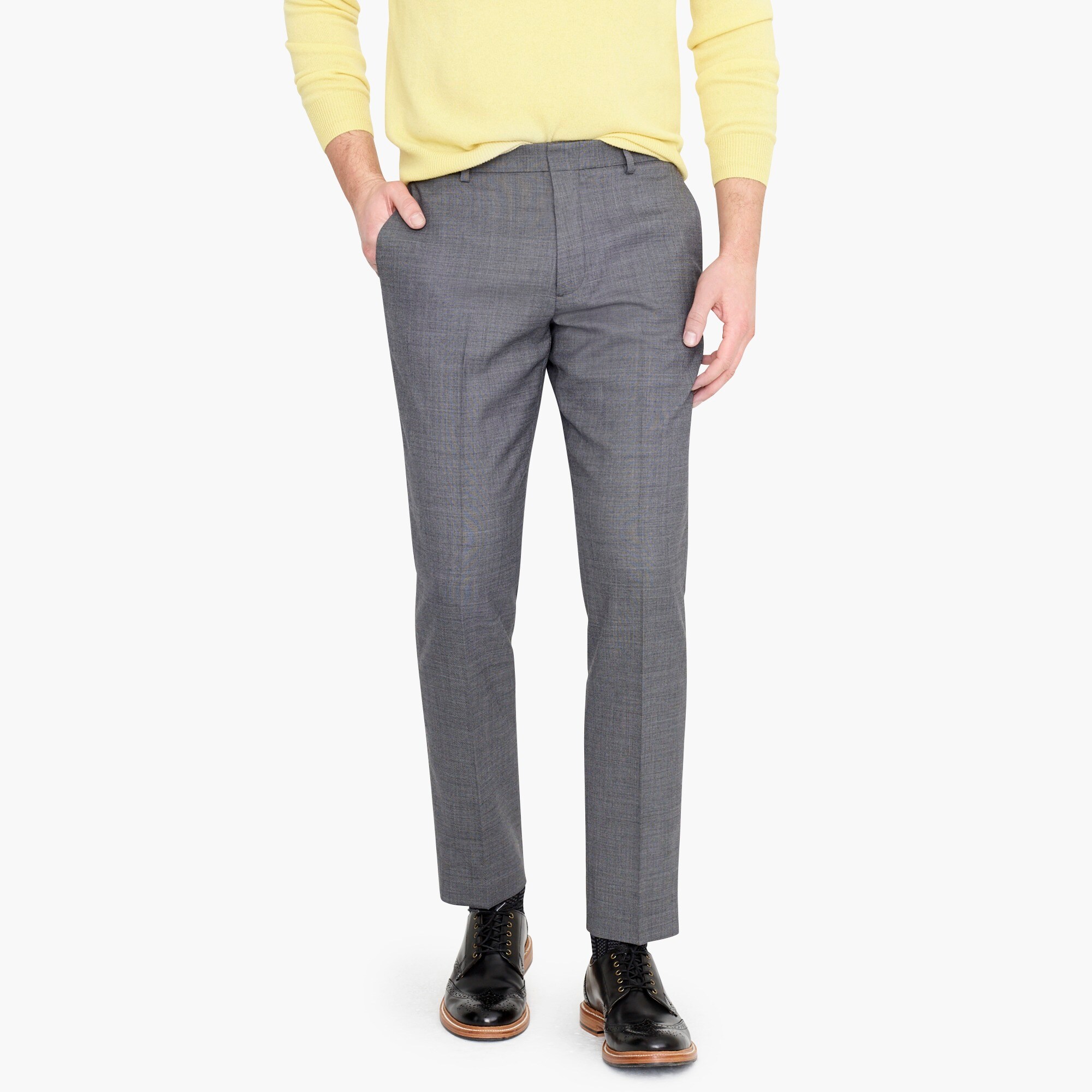 J.Crew's version of the wool go-to's for business casual
Shoes
You will need a pair of oxfords if you don't already have some. I highly recommend spending a little more on these because you will need the extra durability that comes with quality shoes if you don't want to have to buy a new pair every 2 years. You will also need a pair of nicer loafers to pair with the more casual clothes and wear in the warmer months. They also pack nicely since they are a slimmer profile.
Signing Bonus
Allen Edmond is the US mainstay for office jockeys everywhere
Taft's business casual shoe you want and need
Beckett Simonon offers affordable handcrafted leather shoes that are way underpriced.
Johnston Murphy is the standard starter shoe for most consultants buying on a budget
Did we miss anything? What are your consulting uniform go-to's? Leave a comment and/or a link in the comments down below to help your fellow travelling business gents out.