Schema:
Climate: 45-65 degrees (F)

Dress Code: Casual

Color Scheme: Blue/Brown

Full Outfit Price Range: $240-$798 (excluding suits and accessories)
Pre-Spring is an odd time. The temperatures range from close to freezing to quite pleasant, and the weather is incredibly temperamental. In terms of clothing, pre-Spring is a transition period, one where you can incorporate brighter colors to show your anticipation for the warmer weather to come, while trying to stay warm in the current temperatures. Layering in this season is key, t-shirts, oversized button-downs, warmer sweatshirts, and jackets all have their place in this season. This micro season is balance of Spring and Winter textures, colors, and vibes that can be tricky, but also look truly awesome when you nail it.
Outer Layer
Guidance: Your outer layer is completely depending on the forecast: Rainy: Hood, Dry: Polyester or Nylon, Breezy: Thicker Bomber
Members Only Jacket: A classic jacket that was huge when many of our parents were in college and still looks awesome today. This is the perfect top layer for dry 55-65 degree days. $54*
Golden Bear Langton Bomber Jacket: If you're a baseball fan, but also into fashion, this is the jacket for you. 100% nylon and 100% standout.. $295
Barbour Bi Ratio Waterproof Jacket: For the areas that tend to stay cold until May, this will protect you from the snow and the wind. $209* (on sale now!)
The Top
Guidance: You have a range to choose from here but we really like the crew neck pocket T under a denim shirt look, and a plain crew neck sweater with a decal is the perfect back up during this 2019 fashion season.
Lands End Super-T Pocket T-Shirt: This is your pop of color should you wake up feeling that extra spring in your step. $23*
Madewell Classic Button Down Shirt: We've been telling you about denim. wear this over the Lands End t-shirt above for a cool, relaxed Spring-ish look. $80*
Everlane 100% Human Sweatshirt: A touch of street style that supports a good cause (The ACLU). Stay warm and comfy while knowing you're helping others this Spring. $50*
The Bottom
Guidance: The warmer it is, the lighter-colored your pants can go, unless you don't like rules. Then screw it.
NN07 Marco Slim Fit Chinos: If you are looking for pants outside of the J.Crew, Bonobos, and Club Monaco realm, these are the pick. $165*
NXP Tactical Slim Fit Pants: Tactical touches are becoming mainstream. They are already on the rappers and runways, and you'll find them in stores this spring. Get on the trend early. $78*
DSTLD Skinny-Slim Light wash Jeans: Think Levi's 511s but cut a little better and in a cooler fade. $95*
The Feet
Guidance: You'll need to own something waterproof for the bad days, and breathable for the nice ones. Classic silhouettes never hurt.
Converse Lucky Star High Tops: Speaking of classics, these lucky star versions of the converse high tops are old school, but with a slight design slant, which will get people to notice. $85*
Frye Corey Chelsea Boots: Goat leather? On shoes? yep. Be different while protecting your feet in the wet season. $258*
Nike Air Force 1 '07 3s: Talk about classic. If you are into the sneakers for the Spring, customize a pair of AF1s with just a single pop of color. We suggest a neutral like green, teal, yellow, or maroon. Also don't wear these in the rain or snow. $100*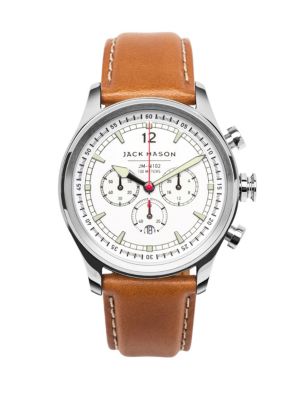 Accessories
Guidance: You can start having fun with colors here as Spring is coming, so we all might as well start getting excited about it.
Jack Mason Nautical Stainless Steel Chronograph: If you are in need of a dependable watch that doesn't cost the arm it's on, Jack Mason is the brand for you. This is clean and dope. $275*
Lowcard 5-Panel Hat: Need some hair cover? Add a 5-panel hat to the noggin for a fresh look that will go well with the more casual shoes. $30*
Happy Socks Diagonal Stripe Socks: If you aren't throwing color in anywhere else, the socks are the spot. These are retro and flashy: aka fire. $14*